Hitachi High-Technologies Corporation announced recently that its wholly owned subsidiary and analytical instrument manufacturer and marketer Hitachi High-Tech Science Corporation ("HHT Science") has developed the HM1000 thermal desorption chemical ionization mass spectrometer, to speed up and simplify testing for four types of phthalates*1 for restriction of hazardous substance (RoHS) regulations. The use of these chemicals will be restricted in the European Union (EU) from July 2019 under the RoHS directive. The HM1000 goes on sale in Japan and overseas on July 13.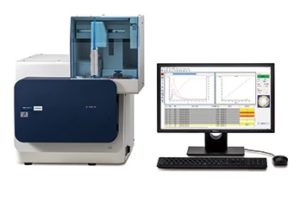 The HM1000 compromises three sections: a sample heating unit to gasify the phthalates within a sample; an ionizing unit to ionize the gasified phthalates, and a mass spectrometer to measure the ionized components produced. Simplification of conventional testing methods enables each sample to be screened for phthalates in under 10 minutes. The preparation procedure is as simple as putting the sample in the sample pan. The specialist software then automatically completes the analysis of sample components, detecting the amount and content percentage of each phthalate present. In addition, an auto-sampler allows for continuous automated analysis of up to 50 samples (including any reference specimens), resulting in a streamlined testing process.
Contact us at (049) 544-1111 for more details or send your inquiries at sales@edgeworthcorp.com.